When I was out at an art supply store, I saw these tiny palm trees and it gave me the idea to make a beach scene for my mom for Mother's Day.
At that point, I had never made any miniatures before and so I thought I could just pop on YouTube and watch a tutorial or something and figure it out. I had no idea how long it could take, or how complicated. I watched Melly's video on her spawning pool (and that's how I got to meet her through e-mail and she invited me here.) I have worked on these other projects, hoping to get more comfortable with some of these skills, before I set in to doing this beach for my mom. (Pretty late Mother's Day present.)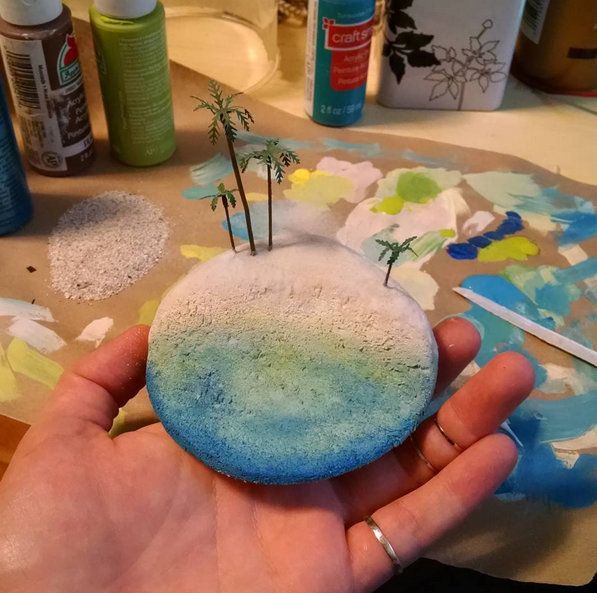 I first tried building a base out of a baking soda clay because it was super moldable. I was going to cover that in wood putty because it makes a nice sandy looking effect. Unforch, the clay cracked pretty bad and I left it to sit for a while. I ended up falling back on the purple foam business again and have painted it and added a little faux micro sand.
I was looking at a reference beach and trying to match the colors I saw, but as usual, I don't feel super confident on working with color so please feel free to give me some input here. I'm also thinking of coloring the resin too just a teeny bit. Or should I leave it clear? Opinions? I really don't want to mess this up cause I heart my mommy, you know? (Though I WILL say that all of this painting I've been doing, I've started to think... oh, that brown needs some yellow in it. Or that grey needs some blue... things I never thought before. Like... er... grass is clearly green and rocks are clearly grey! kinda stuff before. I feel like I'm starting to get familiar with color nuance. But I'm still trying to get better.)
It's a really basic thing at this point but I'm hoping to craft up some passable coral and sea life and then do my first exposed edge resin and waves and stuff. So wish me luck I guess cause wtf.