I wanted to practice making trees and bushes and such. I know here are all different kinds of ways to do them and for all different breeds of tree. Currently, I don't have much (don't know what you refer to it as) but green stuffs or flocking or whatever people use to make trees with. I just have one jug of some Woodland Scenics 'bushes' in light green and a willingness to raid the spice rack. I thought I would try a couple different methods with the materials I have to get my feet wet.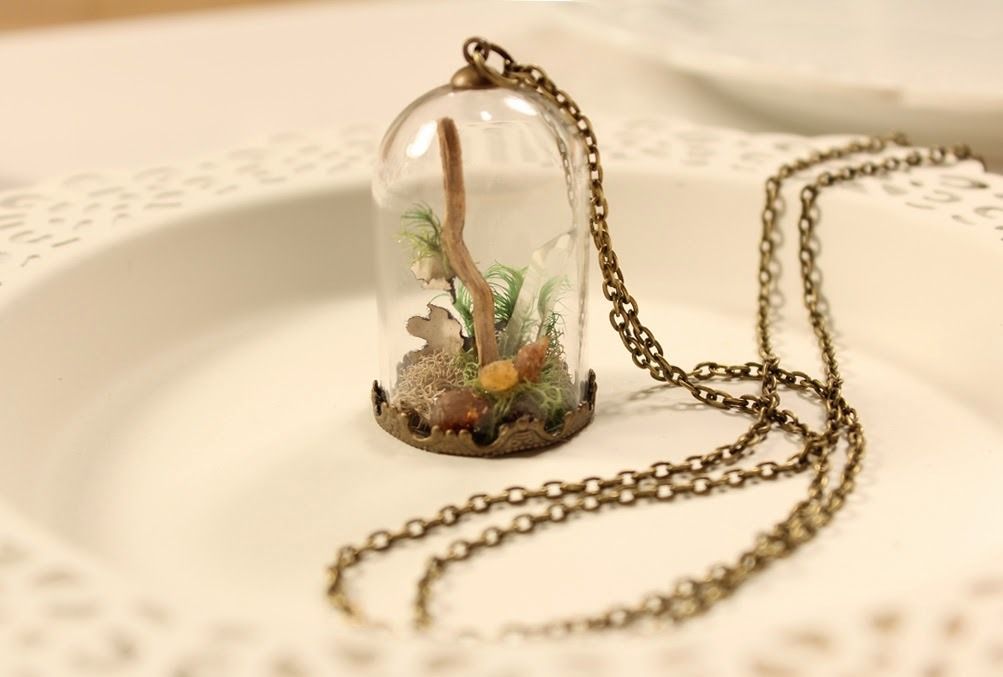 Melly has already seen this necklace from when we were chatting before (sorry for the repeat) but I have been wanting to use other domes like this that I have and put a mini terrain in it now that I've been collecting some different materials and some new skills. I would really like to make a teeny tree with a micro pond below it or a swing in the branches. Or maybe even just something like a grassy hill with a park bench. I think it would be cool.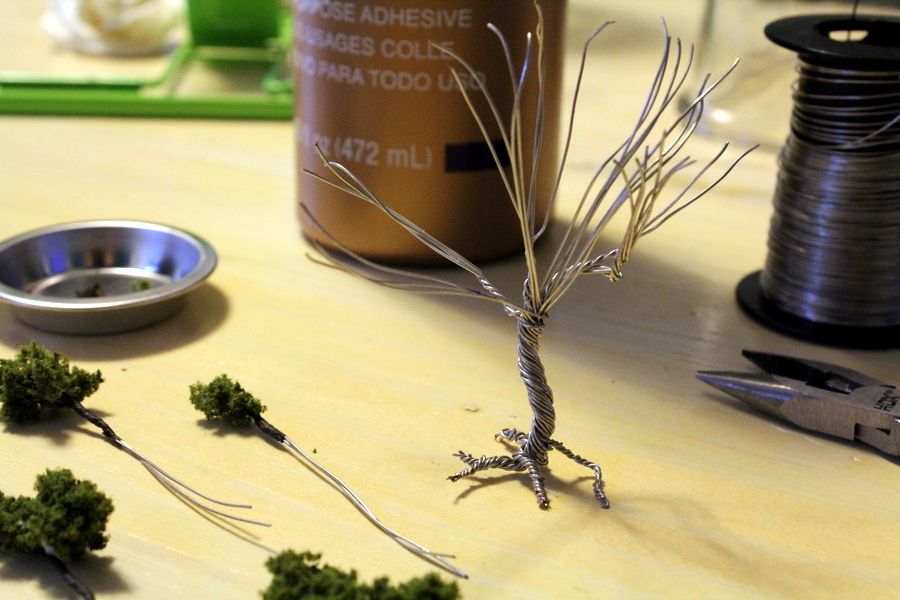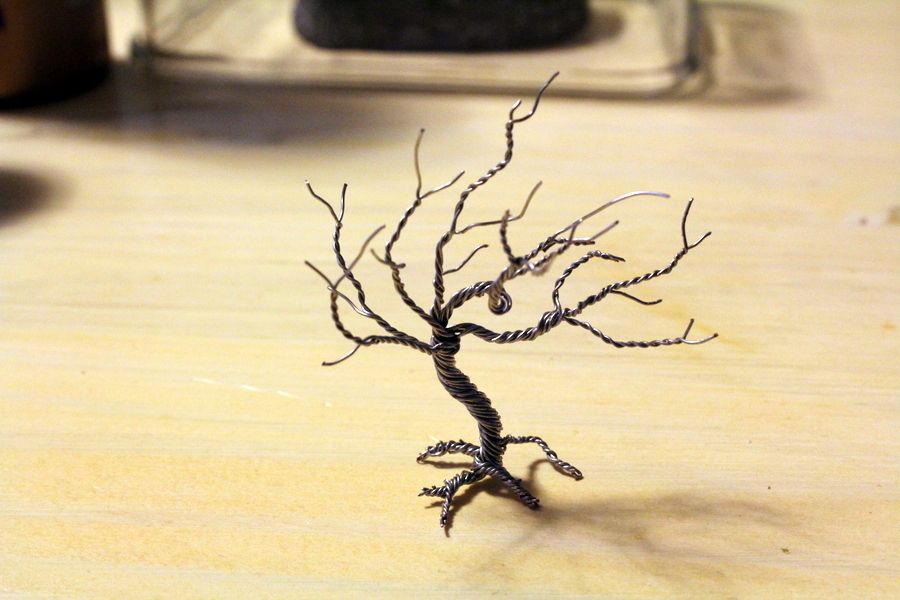 I didn't start that small (because I think I need to figure out what I'm doing before I do it almost too small to see correctly. :3) but I just tried the most basic kind of tree shape I could using a not special wire I had on hand. I'm going to cover this in wood putty and give it texture and foliage after I've mounted it into some kind of setting.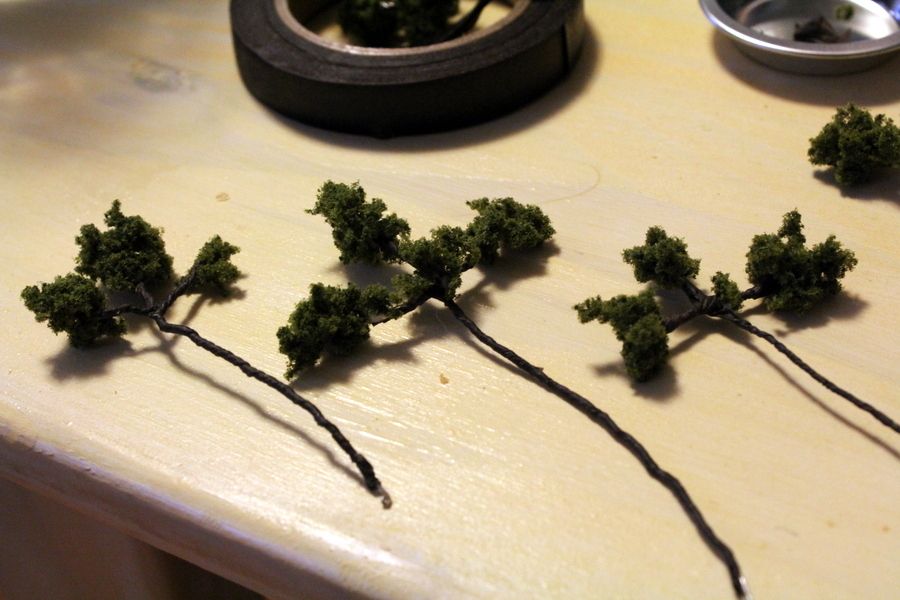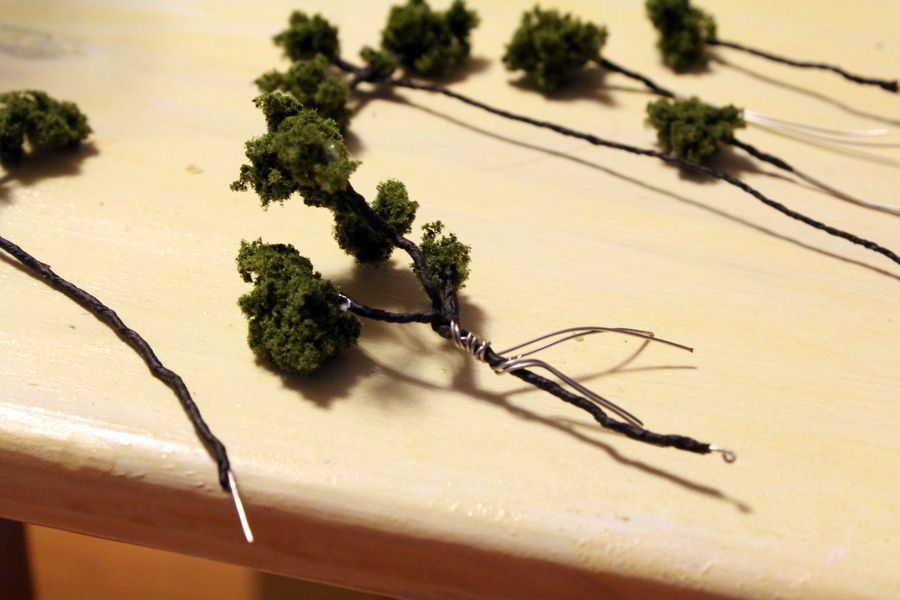 I knew that wrapping wire in floral tape would be more time consuming and awkward, but I thought it might give it more texture and look better than just painting. I started with an idea of trying to do it like those Chinese gemstone trees for feng shui where you wrap a bead (in this case, a bush fluff) in wire and twist the tails and then wrap more of them together into bundles until you form a tree. I tried wrapping the wires at different points in the process and it was mostly just sticky and annoying. The tufts also tended to get compressed or the more delicate looking ones started to pull apart during the manipulation. I figured that would be the case, so I just started squishing them down firmly so I could do the twisting and then using that as an anchor to glue on bushes where I wanted them to get shapes I liked. So basically, after getting the wires twisted and a bush locked into the end I put on more puffs and then left them to dry before combining them into a tree bouquet.
I was kind of worried it would look wonky cause I have no frickin' clue how to make trees, but I decided to stick with it until the end. Since it's wire, I figured I could keep manipulating it until it looked more like a tree. Hopefully.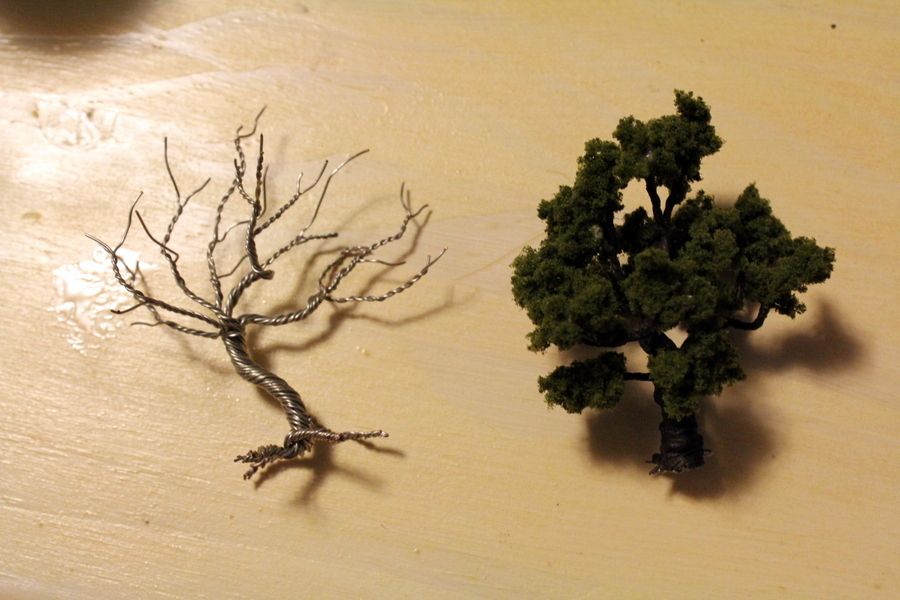 I like the trunk alright but there were no leftovers for roots on the brown and green tree like there was for the all wire one. The all wire one can currently stand on its own and the colored tree is like OH GOD I AM SO DRUNK. So I'm going to basically glue the crap out of it to a base and add on roots or give that effect somehow. I haven't yet decided. I think I'm going to try to mount it into a tiny metal tin with rocks and suches and try to pass it off like a miniature bonsai or something (albeit a bonsai without much attention to detail or care over the years. WHATEVER IT WAS MY FIRST TRY.)
I think, as for the wire one, I can't really try the putty and all that until I get it affixed to something too. I think that, for that one, I'm going to use the bushes for the vegetation too. I have seen people do the hairspray technique on some things, but I feel like the texture of the bushes works for that tiny scale well enough and doesn't require more out of pocket at this point since this is technically just still in experimentation/learning stages.
Opinions? Do the bushes look okay as treefluff in this size?