Okay, so am I supposed to post a separate thread for this? I know Melly did for her caravan so I guess I will...? Honestly I don't know that I can finish this in five days. I've never done a competition here and you all know I'm new to the site and stuff so I figured what better way to try to jump in than to keep trying to jump in?
My first idea was that I wanted to try to make a replica of the house interior from the game "Fable 3"-- particularly the house where you start the mission called "The Game". In Fable, a game with a fantasy setting, you can enter a specific home in one of the cities and see there is a fantasy style gaming board where some teens have been playing a D&D knock off that you're then shrunk into and get to play on. I thought a cool miniature-within-miniature might be to replicate the house the board is contained on, and the board itself. But I couldn't find my copy of the game and had trouble finding reference pictures online. I only found out about the contest with maybe 12 or 14 days to go and decided to just shelve the idea for later and just skip the contest. All that furniture would probably be a big, time consuming thing anyway.
Couple days later, I decided an idea I had wanted to do for other purposes might be something I could use in this contest. It would motivate me to get started on that project as well as at least try to rise to a challenge here. So now, obvs, I have so little time so who knows if I can finish it, but no harm in trying!
I always wanted to be a milliner. So my favorite scene from the animated version of the book, "Howl's Moving Castle", is seeing Sophie in her milliner's studio, working away in front of that window where she can see the city. So I'm hoping to make a room interior that is reminiscent of, or inspired by, the movie version but without being an actual, literal replica of every piece so I can have some creative freedom and also cause copyright. The miniature within the miniature is that I want to also build her view out the window so that, if you lean over, you can look out at the city. It's supposed to contain some buildings, a body of water, and also a train. It was my hope that, building a miniature within a miniature, I'd give the effect that the mini minis are actually full size, but just at a distance.
Hopefully that idea counts for the contest theme. Then again, it's also a lot to do in 5 days so... We'll just see I guess...?
I started with the fun part that has nothing to do with terrain. Sorry. I braided raffia and then started sewing them into straw hats.
The other hats I made a clay 'wood' block form out of and blocked them with sheet wool and steam. Then I cut/made a little box thing with tissue and modified a bead cap into a pin cushion with some hideously over-scale pins. I may come back and re-make this piece. 

Oh yeah, you might want a reference photo.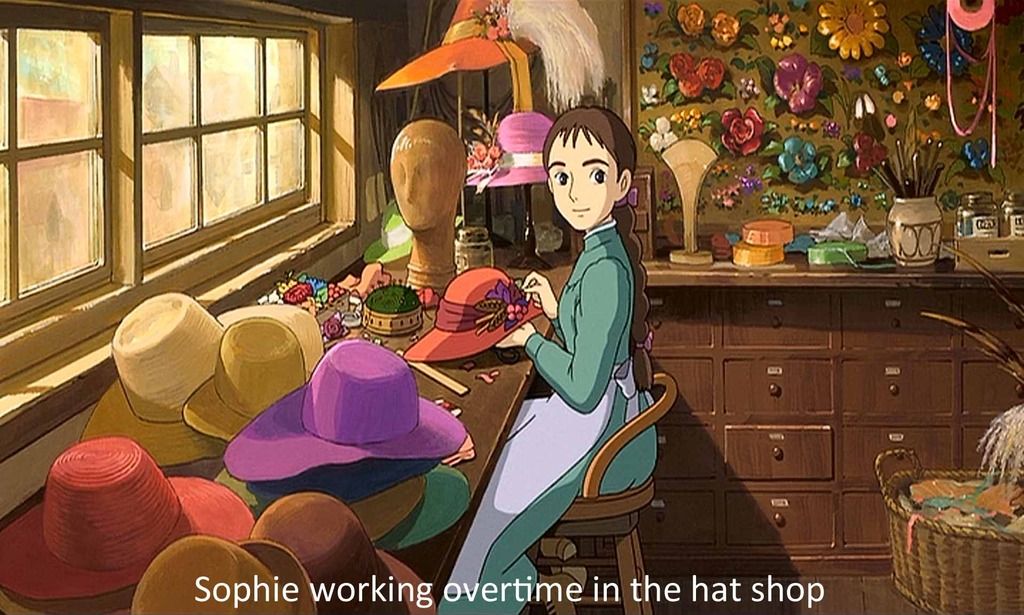 (copyright the Lords and Masters of the Ghibliverse and also Diana Wynne Jones, obvs.)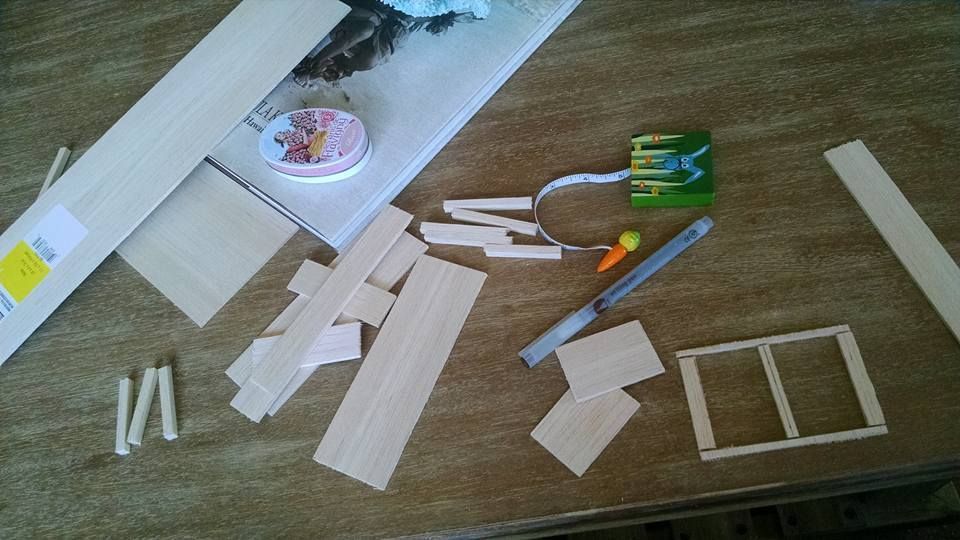 Then I cut lots of pieces of balsa and roughed out some scaley stuff and did things with things to make things. You will be unsurprised at this point when I say this is my first time making miniature furniture because pretty much all I do is awkwardly explain/apologize for doing things for the first time. I don't know why I do this but it is an important part of my process. Also of my incredible online shy-dorkiness. Because OH GOD WHY AM I STILL TYPING.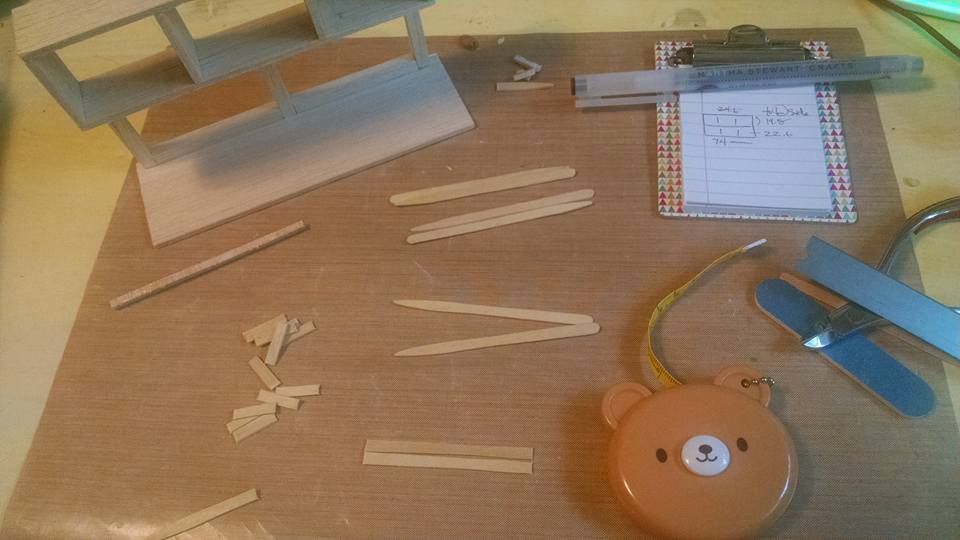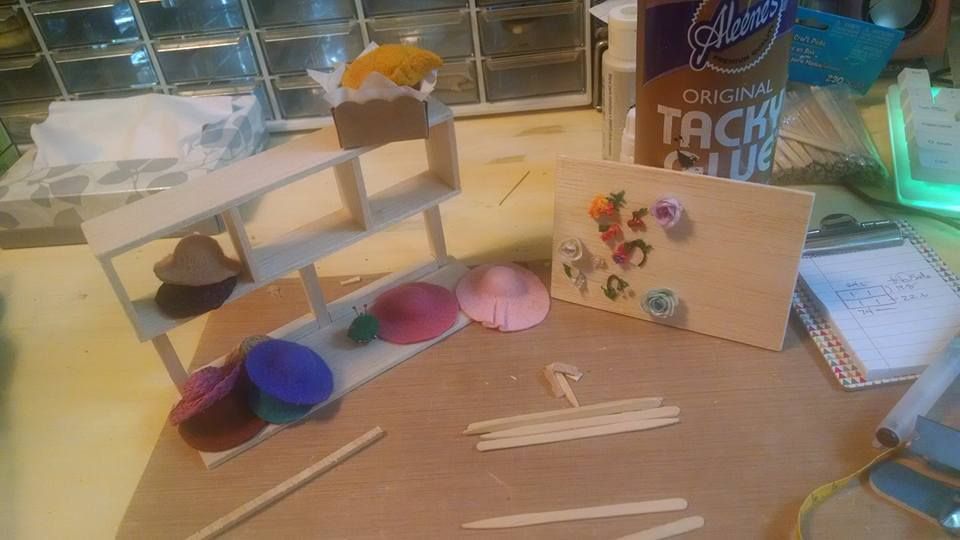 So then I built the shelfy area because I figured that would be a good place to get my toes wet before I try to do bloody DRAWERS because why did I think drawers that worked were a good idea what have I done? So I guess my hats are too big because, while they're supposed to be all over the counter, they take that space up hardcore. So we'll just see. I'm moving forward anyway.
As it stands, I'm right here. I have parts and pieces of the drawer counter, the main counter/upper shelves, and the lower shelf. I've got window panes cut and mounted them on either side of a piece of plastic that has an appropriately aged-warped-clouded look. I've cut out the area behind the window where I'll mount the shadowbox/diorama thing that will hold the actual terrain/view. I'm still working on flowers to fill up the sample board, I have to tidy up the trims on the hats, decorate them, make hat stands, supply baskets, freaking DRAWERS. I did very light washing on some of the wood and not on others as an artistic choice because I like light and dark wood together. This has also been a good way to do something with some of those test roses I made, though I think finishing the flower board alone could take five days. Those tiny flowers are like, killer time consuming.

I'd like to finish the furniture and then move onto the terrain portion. If I take time to add more details to the interior and more accessories/tools/wall decor etc, I feel like that could be an ongoing project akin to dollhouse int. curating. So at the very least I'd like to have the basic room, enough stuff you know what happens in there, and the scene out the window. If I could finish that in five days for the contest, that'd be rad. I'M JUST HAPPY TO BE HERE, GAIS!! D: